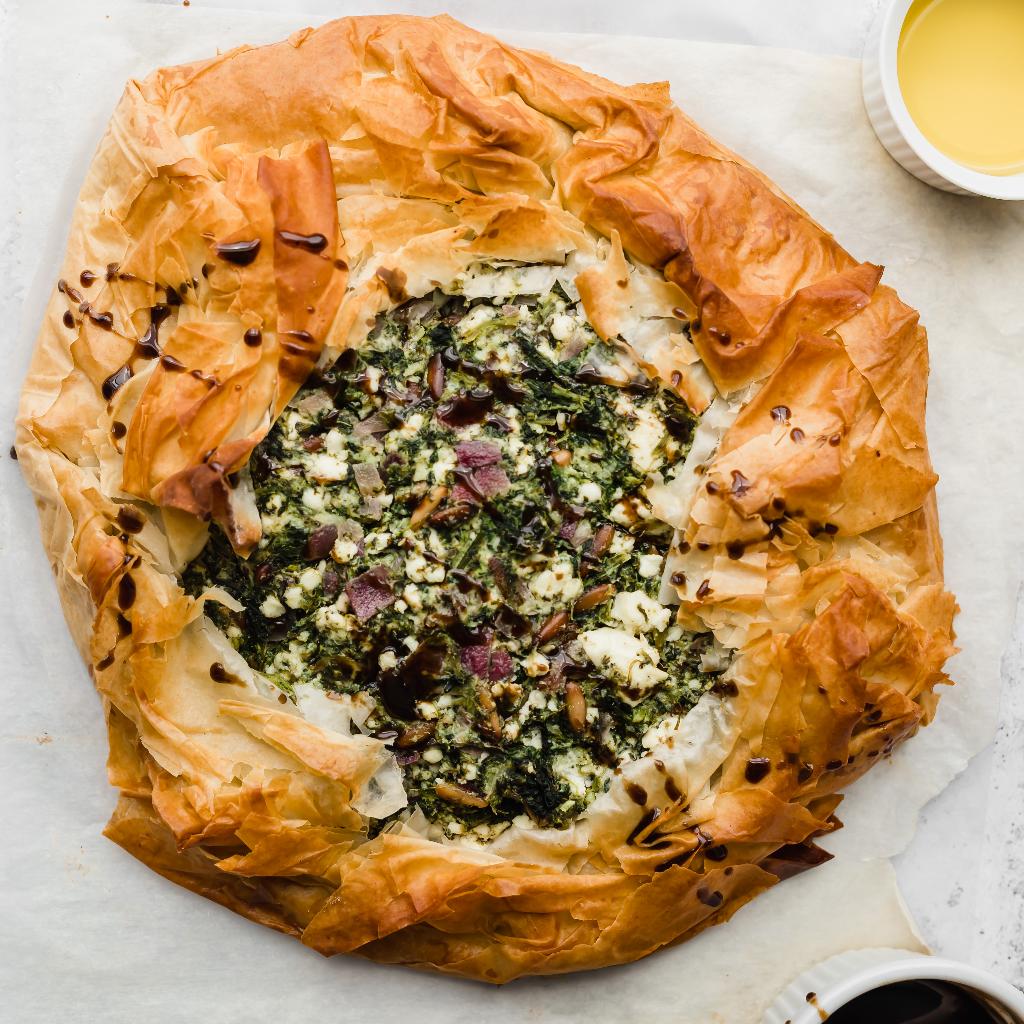 Spanakopita
An easy spanakopita- which is a beautiful creamy mixture of feta and spinach wrapped in crunchy filo pastry. This was a complete and utter hit and I promise you I'll be making it over and over again. Agora cheeses are absolutely delicious, the olive oil and honey are top notch and authentic.
---
75 min
Serves 6
moderate
---
Ingredients
For the spanakopita:
1 box of frozen filo sheets
200 g feta cheese
100 g ricotta cheese
400 g frozen spinach, thawed and thoroughly drained
1 small red onion, diced and sautéed
2 cloves garlic, crushed
2 tbsp toasted pine nuts
1 tsp oregano
1 tsp salt
1/2 tsp pepper
Pinch of nutmeg
1/2 cup olive oil
For the honey glaze:
1 tbsp pomegranate molasses
2 tbsp honey (I used the thyme honey😍)
Method
Preheat oven to 200C (425F).
Mix together the cheeses, spinach, cooked onion, garlic, pine nuts, oregano, salt, pepper and nutmeg. Stir to combine thoroughly.
In a large baking pan lined with parchment paper, arrange two sheets of filo paper vertically. Brush generously with olive oil.
Place two sheets of filo paper horizontally. Brush with olive oil.
Then place two sheets of filo at an angle (like you are going from 11 o clock to 5 o'clock on a clock face).
Next, you'll place two sheets from 1 pm on the clock going to 7 pm (I hope this makes sense 😂).
You are basically making a rough star shape.
Each time you place two sheets down, brush them well with olive oil. Continue using up most of the package but stop when you have 8 sheets left.
Put the feta cheese mixture in a circular shape at the center of this star. Scrunch the edges of the filo towards the feta mix, leaving most of the mix uncovered.
Brush edges of filo with oil and bake for 20-30 min or until golden brown.
While it's in the oven, make your honey glaze by mixing together the pomegranate molasses and honey. Serve fresh out of the oven or at room temp drizzled with the honey mix.